Gen III Remakes Confirmed. No, Seriously.
Posted by
GrassPokemonFTW on May 7, 2014 at 7:13 AM
Recently revealed were the 3DS remakes for Pokémon Ruby and Sapphire, Pokémon
Omega Ruby
and
Alpha Sapphire
. These games are planned for release in November 2014. Like Pokémon X and Y, these games will be released worldwide simultaneously.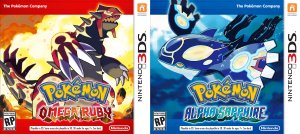 A trailer has been released at
Pokemon.com
revealing the boxart and approximate release date. The cover Pokemon are Groudon and Kyogre, as expected. Though they do look slightly different...Mega Evolutions, perhaps?
Discuss.
Sources: Pokemon.com,
Serebii.net
55 comments